Cape West Coast Biosphere Reserve
The Cape West Coast Biosphere Reserve (CWCBR) is a vast expanse hugging the southernmost section of the Western Coastline of South Africa.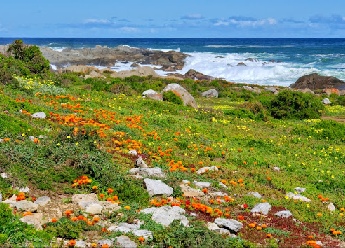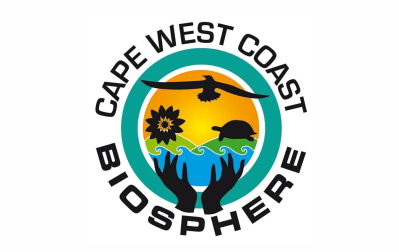 The West Coast National Park is the terrestrial core area of the CWCBR and the seascape surrounding Dassen Island forms the marine core. The CWCBR includes five major flora sub-centres: Hope field Sandveld, Saldanha Peninsula, Darling Range, West Coast, and Atlantis (especially Riverlands Nature Reserve).    Endemic species form a fairly high proportion of the total flora of the CWCBR, with some 127 species (8.4%) being on the Red Data list. The greater Cape West Coast region is of immense value in the conservation of avifaunal biodiversity because of the long coastline, a number of Ramsar sites and estuaries. The CWCBR is also home to noteworthy cultural sites.
UNESCO Designation: 2000
Management Entity: Cape West Coast Biosphere Reserve Non-Profit Company
Total Area: 387 000 ha, including a marine portion of 20 000 ha
Core Zone: 59 000 ha (terrestrial); 20 000 ha (marine)
Buffer Zone: 58 000 ha
Transition Zone: 150 000 ha
National Department of Environmental Affairs – Natural Resource Management (NRM) Alien Vegetation Clearing Project. This project allowed for the development of and the transfer of skills to 108 people from five local communities. The beneficiaries include women, the youth and people living with disabilities. The project commenced in November 2017 with the total hectare target of 1 321 ha to clear over a five month period in what should have been a one year contract. On 31 March 2018, the teams cleared 1298.29 ha, thus a 98% success rate of the ha target. The cleared areas allow for natural vegetation to return. This will assist in the prevention of uncontrolled, untimely res and a drastic decrease in water consumption as the natural flora is adapted to the West Coast conditions.
At the same time the project had an 8 196 person day target for the same period. On 31 March 2018 the total target was met, thus a 100% target reached and 108 jobs created in five local communities. These individuals were previously employees of the CWCBR but through the NRM project and with the training they received, they were able to establish and start their own businesses and are now creating jobs in their communities, thus subcontracting with the CWCBR and able to tender for other similar job opportunities.